Well I thought we were done and this was behind Lance but the doping allegations rear their head again right before he gets to race in Ironman Nice and it sounds like the end result will not allow him to race in the Ironman World Championships in October. Effectively, he is immediately banned from competition in triathlons until these allegations have been resolved.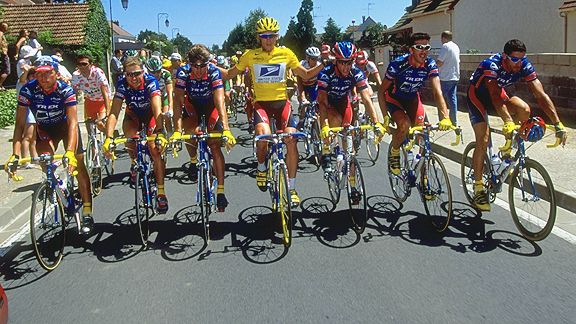 Tour De France USPS Team in 1999 – Lance's First TDF win

Today, the Washington Post released a story "Lance Armstrong faces fresh doping charges from USADA", in which the Post has obtained a 15-page letter where USADA made previously unpublicized allegations against Armstrong, alleging it collected blood samples from Armstrong in 2009 and 2010 that were "fully consistent with blood ma­nipu­la­tion including EPO use and/or blood transfusions". The letter specifically alleges that "multiple riders with firsthand knowledge" will testify that Armstrong used EPO, blood transfusions, testosterone and masking agents, and that he distributed and administered drugs to other cyclists from 1998 to 2005. The letter alleges that numerous witnesses will testify that Armstrong also used human growth hormone before 1996.
Here is Lance's response to the allegations. It's the same basic response we have always seen – I've never tested positive and this is a witch hunt.
My own take on this is that unless there is new evidence that makes this case any different from the case the Justice Department made, it's going to go no where. There is clearly smoke and almost everyone on the podium in his 7 TDF's have either been caught doping or implicated but no one has been able to provide hard evidence that he was (see That questionable Tour de France podium). The timing of these events is always close to the start of the Tour De France (in about 3 weeks) and in this case right before he was going to race his first full Ironman. I hate seeing good money go to waste without an iron clad case.  Only time will tell when more details are released.
As a sporting fan, I wanted to see how well he fared as a "senior" tri-pro and as an incredible athlete, and whether or not he could shake things up at the Ironman World Championships. Let's hope that this case is swift whatever the outcome so that this does not turn into another Contador type situation that takes years to resolve.